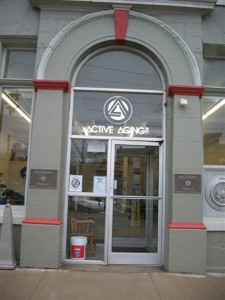 *Please call to verify date change if activity falls on 'Center Closed' date.
** Yoga & Classic Cardio subject to change based on instructor's availability. Call to verify class.
The Cambridge Springs Center is located on Venango Avenue in the beautiful old bank building in the heart of Cambridge Springs, PA. A variety of programs are offered at this site. If you like to stay physically fit, there are exercise programs available as well as a treadmill and free-weights. There are crafters from woodcarvers to sewers. Euchre is also among the frequent events. Lunch is served daily and bus transportation is available. It is open Monday through Friday, from 8AM-3PM.
Exercise Equipment/ Gym Available Monday – Friday 8:00AM-3:00PM
Ukuleles Available to play daily 8:00AM – 3:00PM
Meal Reservations needed two days in advance  814-398-8616.
Lunch served at 11:45 daily
Tune in to COOL 101.7 to hear the Centers' updates from Center Director, Tami Boylan.