In addition to individual and business donations, the Foundation raises money through special event activities. Learn more about some of our most popular events below.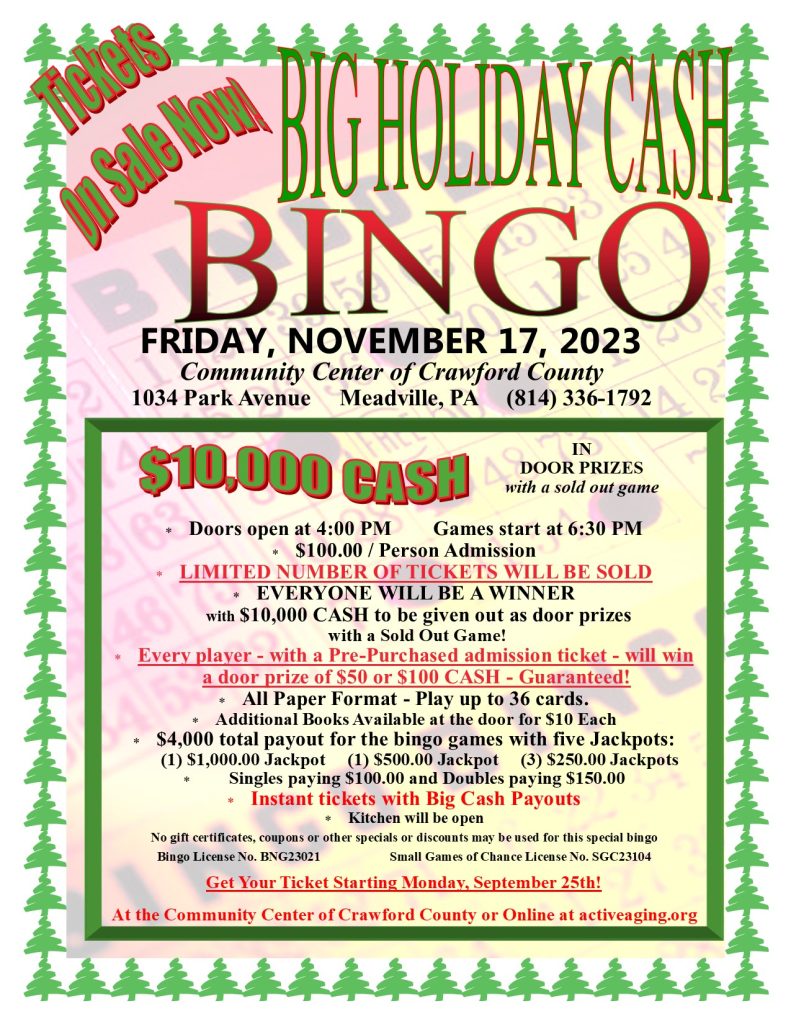 Tickets are available in Person and by Phone Monday through Friday 9 AM to 4 PM or anytime online.
5th Annual Bags, Bullets & Bucks Bingo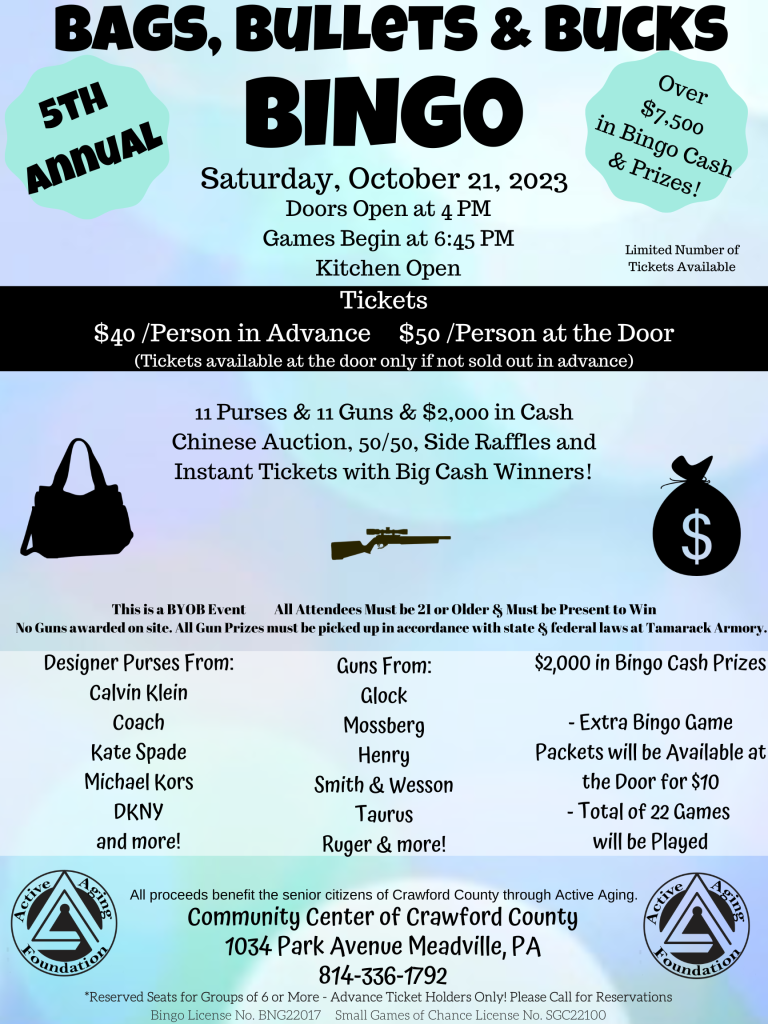 Tickets are available in Person and by Phone Monday through Friday 9 AM to 4 PM or anytime online.
Bingo is a game that can be played and enjoyed by everyone and today's bingo games are not like the ones you might have played years ago – they are bigger & better with more excitement and fun for everyone!
The Active Aging Foundation sponsors a weekly bingo game that is played every Wednesday night and a monthly game that is played on the first Friday night of each month along with other special games that are scheduled at various times throughout the year. The Active Aging Foundation Bingo has won the local "People's Choice Award" for "Best Bingo" many times and we are always planning & doing our best to continue to be the "Best Bingo" in the area.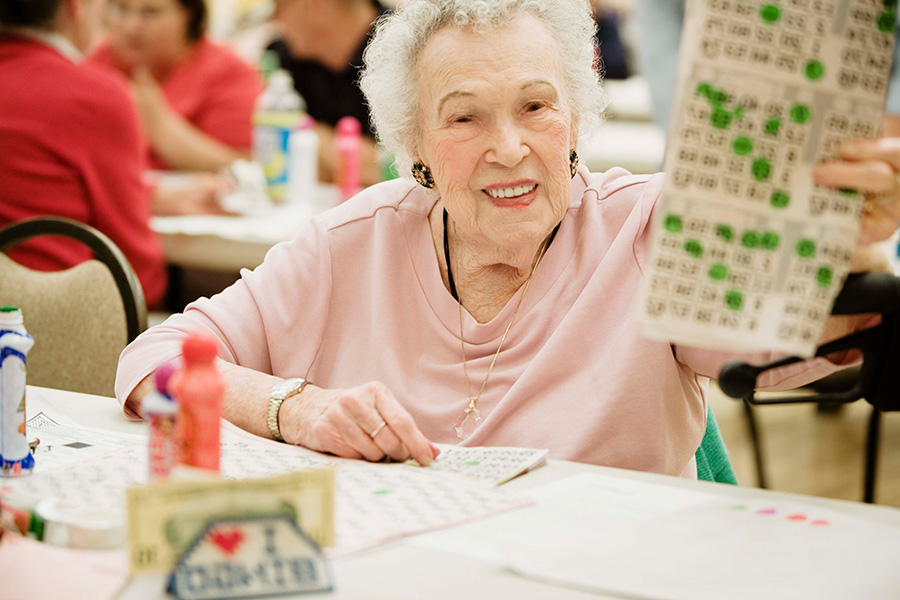 At our weekly Wednesday night game and our monthly Friday night game, the doors open by 4:30PM and the games get started at 6:30PM. We offer an all-paper format with complete admission packets starting at $25.00 for a 6 or 9-card face booklet and extra booklets are $5 each. All of our packets include all of your games for the night; "5 for $5 Jugs," early-birds, regular games and all Jackpot games. We offer big payouts on all of our games and guarantee that all 4 of our regular Jackpot games will be won each night. The only game not in your packet is our Countdown Game which offers additional chances for you to win big!
CDC & Health Department compliant including limited (social distancing) seating and temperature screening upon entering and hand sanitizer stations available throughout the facility.
If you're looking for a great night out with family & friends, then a night at one of our bingo games just may be your ticket to a night of fun & excitement for everyone. For additional information, please call the Foundation office at (814) 336-1792 or (800) 321-7705.
We do allow bingo seat reservations. Please see the below information regarding the Bingo Seat Request Procedure. Reserved seats are only held until 6:00PM and are not required in order to play bingo here at the Active Aging Foundation – Walk-Ins are always welcome until we are sold out.
Due to weather concerns, regular Active Aging business activities and parking limitations, we are asking all bingo players to not arrive prior to 3:30PM. To reserve a seat for bingo you must use the following reservation system.
Reservations will ONLY be accepted
Wednesday Games: Tuesday at noon until noon on Wednesday
1st Friday of the Month Games: Thursday at noon until noon on Friday
To make your reservation, please call 814-336-1792 and when the automated attendant answers, enter the extension number 158. Wait a few moments and you will be directed to leave a voicemail.
The voicemail must include your first and last name (speak slowly & clearly) and your phone number. Reserved seat requests can ONLY be done by voicemail at extension number 158. Do not call a staff member to request a seat, it will not be accepted. Any voicemail requests left before noon the day before bingo or after noon on the day of bingo, will not be accepted – to be fair, we can not make any exceptions.
Due to our limited seating and to be fair to all players wanting to play bingo here, seats will only be held until 6:00PM. If you arrive after 6:00PM, you can still play bingo if there are still seats available, but you will not have a reserved seat being held for you.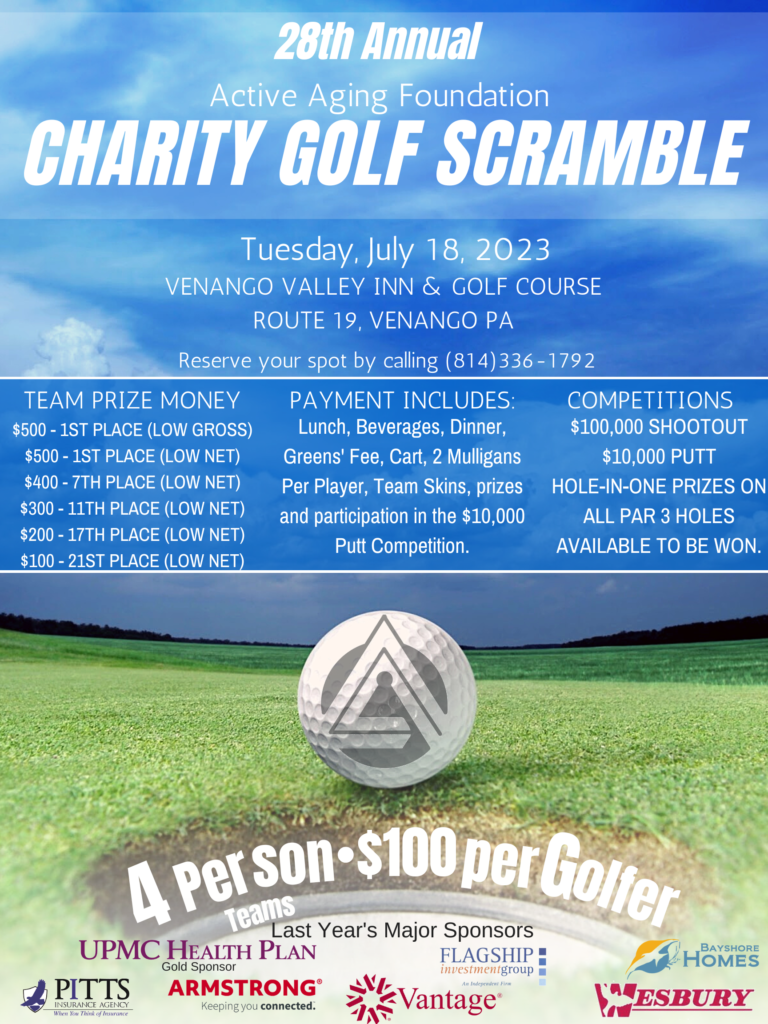 The Active Aging Foundation's Annual Charity Golf Scramble is normally held on the third Tuesday of July at the Venango Valley Inn & Golf Course on Route 19 in Venango, PA.
LET THE FUN BEGIN! The "Winnin' of the Green" Reverse Raffle is held at the Community Center of Crawford County located in the Lew Davies Community Building, 1034 Park Ave., Meadville, PA on the Saturday of, or right before Saint Patrick's Day each year. The Active Aging Foundation sponsors this annual fundraiser to benefit Active Aging, Inc. and the services that they offer for older adult citizens in Crawford County.
Tickets for the "Winnin' of the Green" Reverse Raffle go on sale in February each year and are available for couples or as a single guest. Each admission ticket includes a chance on the grand prize board, a free $2.00 side-board ticket, mixers and munchies and a buffet dinner. As always, this is a BYOB event for those 21 or older. Doors open at 5:00 PM along with additional side-board sales and gaming opportunities, including special games & prizes.
Only a limited number of tickets are sold each year, and seating is limited. If you would like to attend our "Winnin' of the Green" Reverse Raffle or have a group that would like to have a great night out together, we suggest that you buy your tickets early to avoid being left out of all the fun & excitement. Traditionally, this event does sell out in advance.
For additional information and to make arrangements to purchase tickets, please call the Foundation office at (814) 336-1792 or (800) 321-7705.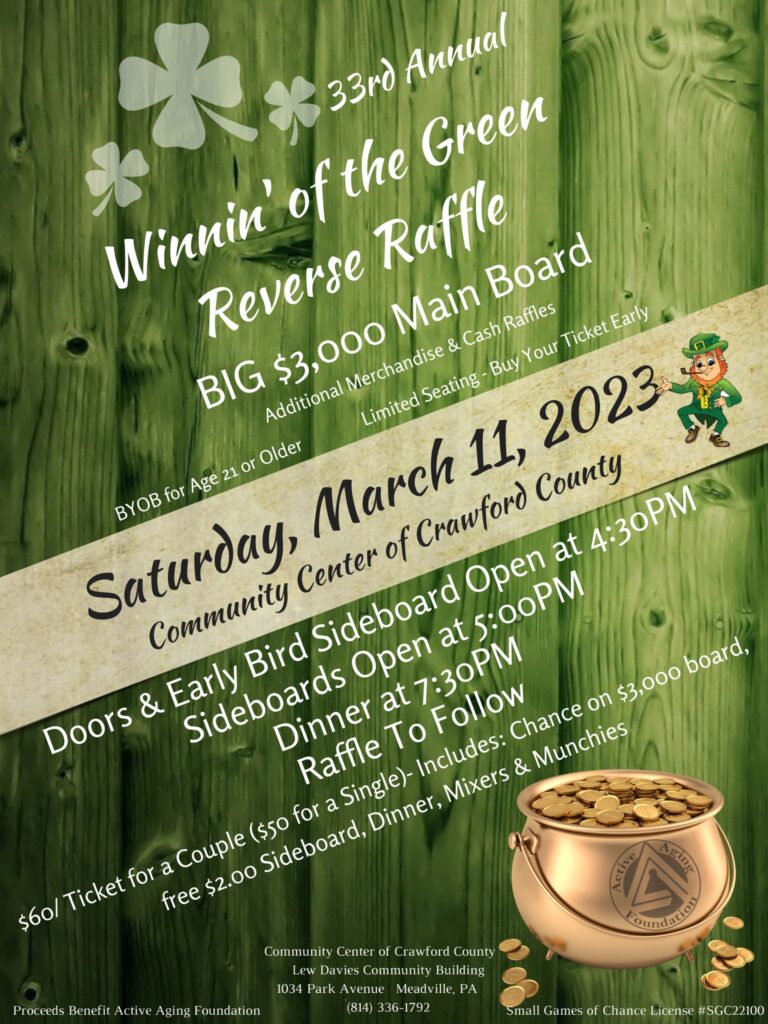 Winnin' of the Green Reverse Raffle on Saturday, March 11, 2023
At times, special-needs campaigns are planned to support specific events or undertakings like the construction of new Active Aging Centers.